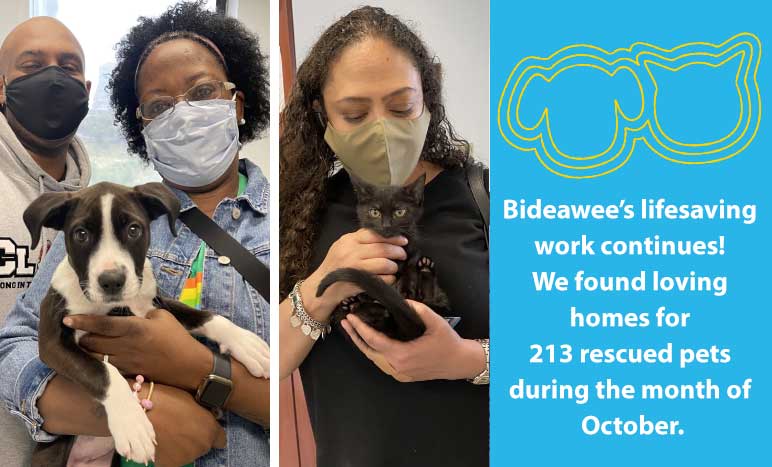 This Month's Features
Pet of the Week: Rainey
About two and a half years ago, my husband and I began dabbling with the idea of adopting a dog. After seeing a gorgeous dog in Central Park, we asked the owner where he got his pup and he told us about Bideawee. A few weeks later, we decided to start looking, and Bideawee was top of mind. After approximately two minutes on the website, we fell in love with this beautiful brown and white dog named Cherry. We knew we had to meet her.
My Human Children Aren't Perfect Either
I raised four boys who are now grown men. I couldn't love them any more than I do, but I will be the first to say, that like all of us, they are far from perfect, they all had, and have struggles, they tested my patience from time to time, and my goodness, were they messy!  Four boys under one roof amounted to a lot of food, a lot of dirty towels on the floors, a lot of boy smells, and a lot of noise. But I wouldn't trade those moments for anything in the world.
Focus on FCI: Eagle Scout's Winter Shelter Service Project
Seventeen-year-old Manhattan Boy Scout, Declan D., has two rescue cats in his family, so he wanted his Eagle Scout Service Project to benefit less-fortunate felines. He reached out to Bideawee for ideas and ended up talking to Kathleen O'Malley from our Feral Cat Initiative (FCI), who suggested that he build winter shelters for feral and stray community cats to keep them warm, dry, and safe during harsh weather.
Join us for our Winter Wonderland Event in Westhampton!
It's time for holiday photos and Bideawee has you covered! Bring the entire two-and-four-legged family to our Westhampton Adoption Center on Saturday, November 27th, or Sunday, November 28th for our annual Winter Wonderland Photo Event! All are invited to have a photo taken by our amazing photographer in our beautiful, festive outdoor gazebo. For a $25 donation, you will receive a high-resolution digital photo, a super-soft Tall Tails pet blanket and toy, a magnetic holiday photo frame and more!  All attendees must use the link below to register in advance.
Pick of the Litter: Chief
by Jordan Zhang, Adoption Associate
As someone who works hands-on with the animals, I can tell you that there's nothing worse than seeing a puppy or kitten grow up at the shelter. There are many reasons this sometimes happens, but usually, it's just because an animal may be more shy or over-exuberant and once they start to get bigger, they are overlooked for the younger guys. Chief is one of these pups and he's my Pick of the Litter for November. He's been with us several weeks now and while he seems a little nuts when you first take him out of the kennel, he definitely calms down after he expends some energy and then he just wants to cuddle and be loved! He loves scratches, playtime and going on long walks and he's never met another pup he didn't like and want to wrestle with! He's about to turn 6-months-old and I hope he gets to celebrate that milestone in a loving home with a family who will spoil him rotten!