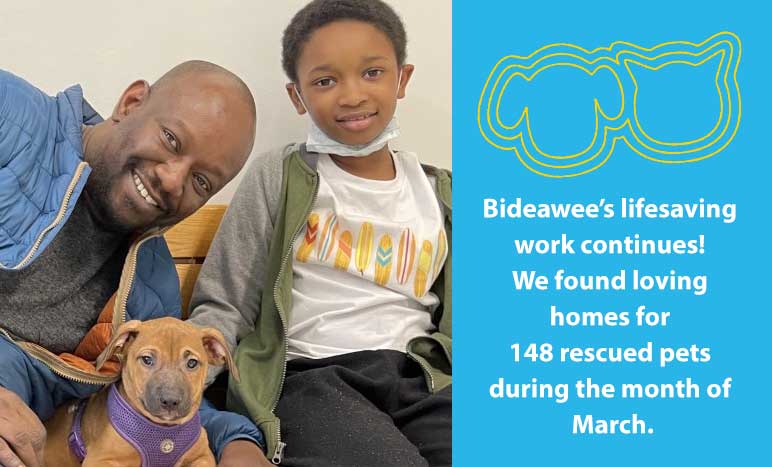 This Month's Features
Pet Spotlight: Sesame
Sesame had been at the Bideawee Westhampton location for months when I first saw his listing on their website. The moment I saw his photo and read his bio on the website, I became obsessed. I frequently talked about adopting him with my former co-workers, but kept holding off. It wasn't until my friend offered to drive me out to Long Island to meet him that it became a reality!
Spring into the season with a new love interest
We all have that one friend who is always looking for the perfect match, but no one is ever just right. Too tall, too short, dark-haired, light-haired, whatever it might be. But, common interests and complementing personalities are more important in the long run of a relationship than just immediate physical attraction—just ask a matchmaker! And sometimes….that's exactly what I fancy myself! Not for people – but for people AND pets.
April Showers Bring May… Kittens?
Every spring, warmer temperatures inspire the community cats in New York City and Long Island to breed, quite literally giving birth to kitten season.
In the coming weeks, Bideawee and our rescue and shelter partners will soon be inundated with kittens. While some kittens will have a mother cat by their sides, many more will be orphaned bottle babies. Many of them will be barely days old, sickly, and fragile.
We are ready to open our doors and our hearts to save our community's most vulnerable tiny tigers, but we need your help!
Join us next month for our Bottle-Feeding & Care of Orphaned Kittenswebinar to learn the skills needed to successfully bottle-feed and care for orphaned kittens. Find out how to navigate all the stages of kitten care, and what equipment, formula, and bottle-feeding techniques get the best results.
Submissions are open for Bideawee's Love Your Pet Art Contest
Bideawee's Love Your Pet Art Contest is underway! In its 14th year, this annual contest invites students in grades 1-12 to use their artistic talent to express their love for animals. Students and teachers can submit photos of their artwork that will be showcased on our website. Submissions are currently open until Sunday, May 8th. The winners in each grade group will be determined by a public online vote starting on May 10th. Prizes will be awarded in five categories based on grade groupings: 1st & 2nd, 3rd & 4th, 5th & 6th, 7th & 8th and 9th -12th. Winning students will receive a $100 VISA gift card from our sponsors at TD Bank and two tickets to the Long Island Aquarium.
Pick of the Litter: Shaka

by Kerrie, McKeon, Adoption Associate

One-year-old Shaka is a recent arrival to our Manhattan location who is already amassing quite a fan club, myself included! He's a very sweet boy who is great with people and seems to enjoy the company of kitty friends too, making him pretty popular around here! He's always up to receive some pets and nuzzles and will happily greet you when you enter a room.