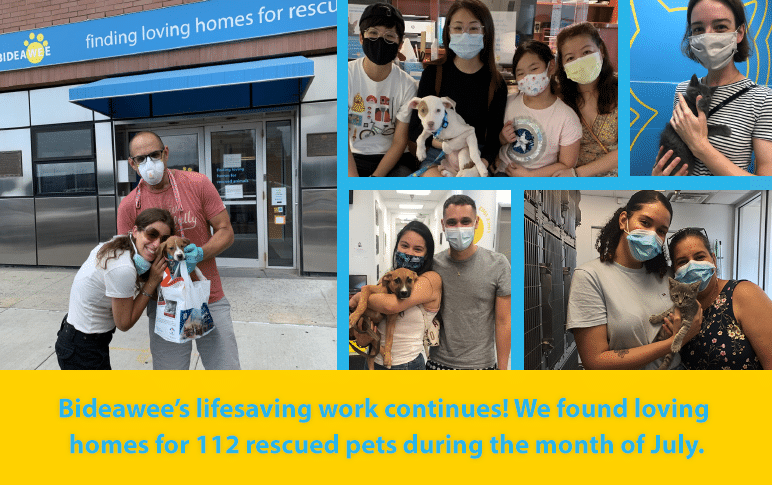 This Month's Features
Pet of the Week: Fifi and Ellie
Fifi and Ellie were adopted about a year apart from Bideawee, but have since become the best of friends! We (Lindsey, Sarah, and Kathryn) are all graduate students in NYC who moved in together in September 2018 and quickly realized that we all wanted a cat. When we first visited Bideawee, we thought we wanted an older cat, but a little black and white kitten with a "funky" eye stole our hearts. Lindsey officially adopted our sweet Fifi, and she quickly settled into our apartment.
I said "never". Never say "never".
After I lost my 17-year-old dog Winnie back in the fall, I said I would consider adopting again in the future but I would NEVER adopt a puppy. My "type" (we all think we have them, right?) tends toward the aged, scruffy, no-teeth, tongue out, one-eyed, special needs little dog. And I still have one of those! His name is Jack, he's 14, going deaf, and a bit of a jerk sometimes. But he is loved beyond measure and very attached to me – especially now that I am working from home most of the time!
Join us for the 2020 Pet Memorial Day Virtual Ceremony
Join us for a virtual celebration of Bideawee's 38th annual Pet Memorial Day ceremony on Sunday, September 13th at 11am. In light of COVID-19, this year's Pet Memorial Day will be celebrated virtually through Zoom so that we can honor this special day while ensuring the safety of our attendees. This annual ceremony is a loving tribute to the community's departed companion animals and will include speakers, a candle lighting and a pet memorial slide show.
Focus on FCI: July's Kitten Roundup!
With Kitten Season in full swing, the NYC Feral Cat Initiative has had a very busy month. Spay/neuter services in the New York Metro area have been dramatically reduced due to COVID-19, resulting in an unusually high number of kittens being born to community cats. Still, by working with Bideawee's Adoption Center and others in the rescue/sheltering community, FCI has been able to help dozens of community kittens from all over the city come in off the street and find forever homes. Several of these helpers are new volunteers who took one or more of FCI's community cat care webinars.
Pick of the Litter: Bella
Picked by: Theresa Fastaia, Westhampton Adoption Manager
My Pick of the Litter for August is sweet, silly, snuggly Bella! Bella never fails to put a smile on my face, whether she's chasing every ball in sight, splashing in the pool, or wiggling her way on to my lap. She's so much fun to be around and is extremely loyal and affectionate. When she's thoroughly tired out, there's nothing she loves more than showering her people with kisses! I can't wait to see her In a loving home.