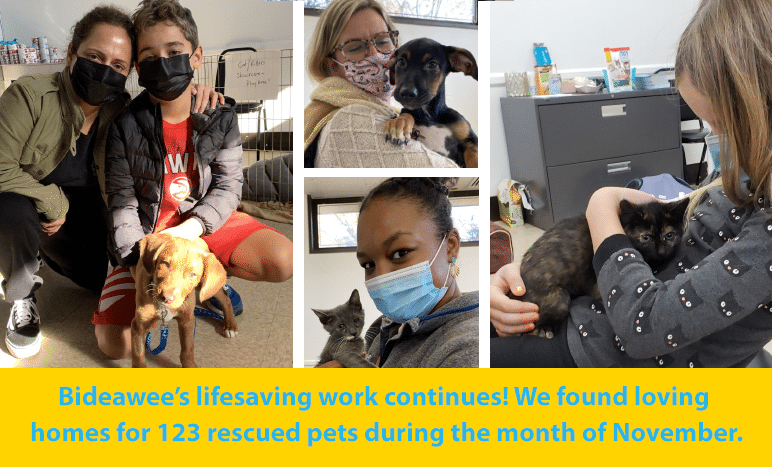 This Month's Features
Pet of the Week: Hudson

My fiancé and I had been considering getting a dog but we were on the fence about it. We both worked full time jobs, I was about to start graduate school, and we were worried we didn't have the time. We researched various breeds and then came to the decision that if we were going to get a dog, we should adopt one from a shelter or rescue. We lived a few blocks away from Bideawee at the time and first visited on Saturday, February 2, 2018. Hudson had actually already been adopted at that point. After playing with a few dogs, we thought we should take some time to think about it.
We're Closing 2020 with Incredibly Exciting News
Bideawee has been around for more than 117 years and through good times and bad, we've stayed true to our mission of being there for pets and the people who love them. When our founder, Flora Kibbe chose our Manhattan location on East 38th Street, it was during a time when people horrifically discarded their unwanted pets in the river, and she felt being only steps away would enable her to save more lives. She purposefully positioned Bideawee to be as close as possible to the East River in the hope that she could be there to step in before pets were drowned.
Focus on FCI: This Year, the Cats Thank You
This holiday season, the Feral Cat Initiative is thankful for YOU. Thanks to your support, Bideawee has been able to save hundreds of kittens and cats this year, all while supporting the critical work of more than 8,000 Certified TNR Caretakers who care for tens of thousands of outdoor community cats.
Volunteer Highlight- Andrea Zee, Manhattan
Andrea has been volunteering with Bideawee for just over seven years, beginning in the Manhattan Adoption Center and later joining our Event Volunteer Team. When the volunteer program was put on pause in light of Covid, Andrea decided it was finally time for another Bideawee role, foster volunteer. Since June, Andrea has fostered 10 Bideawee babies! After a few months, we resumed the volunteer program, and Andrea was part of the first wave to return to the Manhattan location for in-person volunteering. She has continued volunteering, both at the shelter, and as a foster volunteer, and our animals and staff couldn't be more grateful for her support!
Pick of the Litter: JP
Picked by: Deanna Murphy, Client Care Coordinator

JP arrived at Bideawee in March 2019, and has been patiently waiting for the lid to his jar ever since. For his beloved friends and trusted comrades, there is no finer company than JP. Whether he's joining you in the woods of Westhampton for a leisurely hike, snuggling in the lounge with you on the couch, or sharing a snack together (he is the connoisseur of cookies), JP is wonderful company! Despite being 7 years old, this little guy has the face of a puppy and his smile is contagious! JP is seeking a patient, loving home with older children and no other animals. He's spent far too long in a shelter, and this sweet boy deserves to live out his golden years in a loving home.