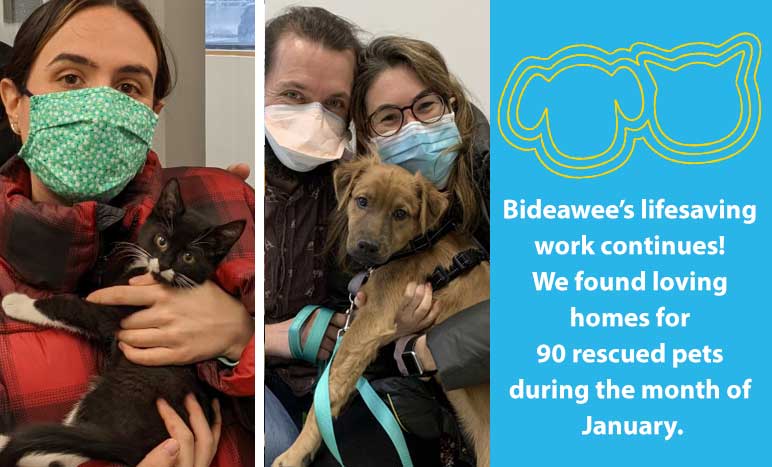 This Month's Features
Pet of the Week: Lucy
Last summer, at the height of the pandemic in NYC, my husband and I had to say goodbye to our beloved dog, Blue, after 11 years. While we were grateful to be able to be with him at the end (not a given, under lockdown circumstances), we were heartbroken. We never doubted that there would be a dog in our lives again eventually, but we took some time to grieve, feeling sure that we would know when the time was right.
Our First Giving Tuesday 2021 Pet Food Delivery!
Last month, I thanked you all for helping us raise more than $40,000 and 10,000 pounds of food from our Giving Tuesday campaign and this month, we hit the road to begin distributing all that food! We want to give a huge thanks to our incredible partner, Hill's Pet Nutrition, for making this campaign possible! In 2022, we're going to be doing even more to help pets, families and communities and none of it would be possible without your support. Thank you!
Make this Your Year of the Tiger!
February 1st marked the Lunar New Year, and according to Chinese tradition, we are now in the Year of the Tiger. Tigers are believed to be enthusiastic, generous, vigorous, ambitious, courageous, and self-confident, with a sense of justice and a commitment to helping others for the greater good. We invite you to embrace these wonderful tiger traits in 2022 by helping the "little tigers" who live among us — feral and stray community cats!
Want to get involved, but don't know where to start? Register today for our "101" webinars below.
On March 9, our Community Cats 101 webinar will give you an insider's tour of the world of Trap-Neuter-Return (TNR) and community cats, discussing common questions like: Why are there so many cats living outside? What do I do if I find a sick or injured community cat? How can I become part of the TNR/rescue community?
On April 6, join us for Kitten Season 101, where you'll learn skills to help kittens of all ages in your community. Whether you're looking to learn how to provide neonate kittens with specialized, around-the-clock care, or how to socialize older kittens so they'll be more adoptable, you'll find it here!
Happy Lunar New Year! We look forward to helping lots of new TNR tigers in 2022!
Staff Spotlight: Maria Chavez
I joined Bideawee 18 years ago as a member of the Finance Department. Currently, as Revenue Accounting Manager, I help ensure the timely and accurate reporting of cash and revenue transactions to the general ledger. One of the things that I enjoy most about working at Bideawee is interacting with colleagues in various departments and collaborating to help achieve our collective goals and fulfill our mission.
Pick of the Litter: Bailey
by Deanna Murphy, Client Care Supervisor
It's an honor to nominate my good friend, Bailey, to be featured as the Pick of the Litter this month.  Bailey is wonderful girl who the true essence of devotion.  The admiration she possesses for her people pals, and dedication to spending time with them and making sure they are safe, always warms my heart.  When she loves, she LOVES fully, and is very loyal to those in her circle.  She falls into a mushy pile of puppy snuggles when you spend time with her, and wants nothing more than belly rubs and the pleasure of your company.  Often times, when left alone at the desk, I come back to find she has taken a personal item of mine to snuggle with (such as a hat) until I return.  I'm touched by her faithfulness, and I am blessed to share a special bond with her.  She can be reactive around other dogs so she'd do best as the only pet in the home.