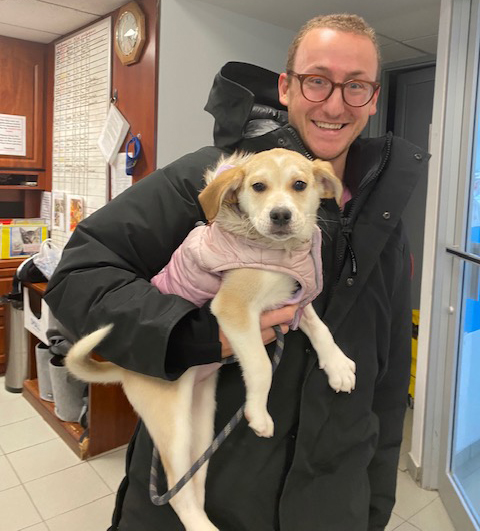 This Month's Features
Pet Spotlight: Kenny

Being a dog person without a dog and living in Upper Manhattan (where everyone seemed to have a furry family member) I had started to feel like the universe was giving me a sign I could no longer ignore.
Kitten Season 101
The last few weeks of winter may be upon us, but kitten season is right around the corner. Want to get involved, but don't know where to start? Register today for our "101" webinar overview of all things kitten to learn how you can save lives this spring.
On February 22, join us for Kitten Season 101, where you'll learn skills to help kittens of all ages in your community. Whether you're looking to learn how to provide neonate kittens with specialized, around-the-clock care, or how to socialize older kittens so they'll be more adoptable, you'll find it here!
Roses Are Red…..
Violets are blue, this work would we be so much harder if it weren't for you.
Yes, that's right. This Valentine's Day, I'm focused on the incredible passion, joy, and love the staff and volunteers at Bideawee bring to their work each and every day.
Staff Spotlight: Ilana Sarkozi

Senior Major Gifts Officer

Ilana joins Bideawee after serving as the Senior Manager of Individual Giving at the American Academy in Rome (AAR) where she crafted and executed strategies to raise more than $37 million in operating, endowment, and planned gifts. Prior to AAR, Ilana established the Donor Relations team at the American Museum of Natural History before managing the museum's benefit events. Ilana has a demonstrated record of success with strategic planning, capital campaign fundraising, and building philanthropic support at every level.
Pick of the Litter: Juliette

by Ellen Delisle, Senior Manager of Rescue & Welfare – Adoptions

My pick of the litter for February is Juliette. I always catch myself in a better mood after I've hung out with her for a little bit. She is so much fun and so so silly. When you take her to the playroom you can see the Boxer in her come out because she zooms around and leads with her front feet. She doesn't have a tail so when she's happy her entire body wiggles with excitement. We think there was some trauma in her past and she can be a little bit scared in new situations, but she warms up quickly and is happily licking your face after just a few minutes. Juliette would be a wonderful addition to any family and I'm excited to help her find her people.