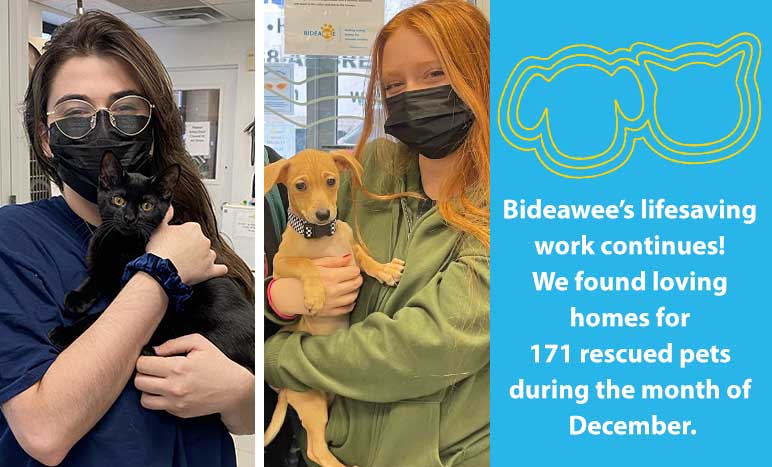 This Month's Features
Pet of the Week: Coconut
Is there a better cat in the world than Mister Coconut? He is soft, fluffy, and has the funniest little mustache. And it's a good thing that he's so adorable—because he's not the most graceful or energetic cat! He often falls off of the couch while chasing a toy and barely lifts a lazy paw to swat at the laser pointer, pursuing the elusive red dot only when it's directly next to him, never chasing it across the room.
Our New Year is off to a Great Start Because of You
Aja and I want to wish you all a happy and healthy new year, and thank you for everything you did to support Bideawee and the animals in our care in 2021! In spite of all the challenges of the last few years, I feel incredibly lucky and optimistic about the future because of the unwavering support and dedication of each and every one of you. Happy New Year!
Focus on FCI: Bideawee Webinar Inspires Family-Friendly Workshop in Virginia
Back in October, Erin Dams, Volunteer and Pet Retention Programs Coordinator at the Roanoke Valley SPCA, learned about our new Building Winter Cat Shelters with Kids webinar and decided to check it out. We're so glad she did! Building winter cat shelters is a purr-fect project for cat-loving families, and Erin immediately put her new skills into action by hosting a workshop for parents and kids at the RVSPCA shelter in November.
"I got the idea to host a family-friendly event focused on outdoor kitties after attending Bideawee's webinar on building shelters with kids," said Erin. "We had about 10 families attend the event and ended up building 13 cat shelters! We will definitely host another event in the future."
Learn how you can keep your feline neighbors safe and comfortable this winter by viewing a recording of our recent Building Shelters for Outdoor Cats webinar  (Access Passcode: d!M2gCae). We'll show you the materials, tools, and skills needed to build four different designs of warm, waterproof shelters so you can get started.
Staff Spotlight – Laura Rosa
I have been a Licensed Vet Tech and Wildlife Rehabilitator since 1990. I began my career at Bideawee as a volunteer and then a per diem Vet Tech in 2007. Before this, I was busy raising my 2 daughters after exiting an 11-year stint in private practice.
When Bideawee Wantagh site was reopening, I was the first rehire at this location, and I've never looked back.
Pick of the Litter: Twinkle & Tinsel

by Kathleen Raab, Client Care Supervisor
The holiday season may be over, but we still have a little twinkle and tinsel left to remind us of the magic of the season. My picks for January are sweet sisters, Twinkle & Tinsel! These babies arrived when they were just teeny little beans and have been thriving in a loving foster home. Their foster mom says that they are like yin and yang. Twinkle is curious and adventurous and can't resist a good head scratch. And Tinsel is a little shy at first but loves cuddles and being held once she gets to know you. She's also very playful with toys and loves to play tag with her sister! These two love each other and would be very happy to find a home together! Tinsel and Twinkle are bound to brighten up your days and make every minute feel as magical as the holidays!
Meet Twinkle & Tinsel>>