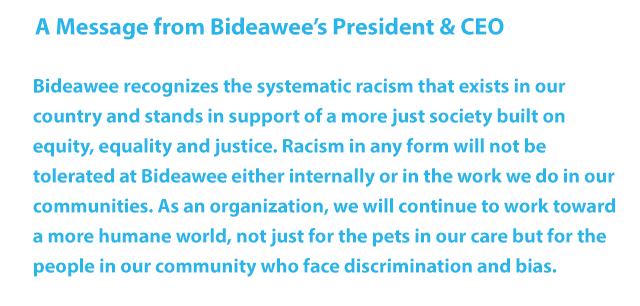 This Month's Features
Pet of the Week: Diablo & Beezle
We lost our beloved 13 and a ½ year old cat, Beast, to a brain tumor in the early stages of the pandemic. We had adopted Beast from a shelter in Schenectady, NY, and though no one could ever replace him, we decided to check and see if there was a cat or kitten in New York City we might offer a loving home.
And then we found Bideawee, and their wonderful staff! We were immediately attracted to Bideawee's 117-year history, and we spotted two bonded kittens pictured on the website. We fell in love at first sight with these two little babies rescued from a backyard in Staten Island, but we tried to temper our enthusiasm to protect ourselves.
What Animals Can Teach Us
"Some people talk to animals. Not many listen though. That's the problem." ― A.A. Milne
Animals can teach us so much about being better human beings. Perhaps we have a lot more to learn from them, than they from us.
This is a difficult time in this country and around the world. As we continue our lives in ways we never thought possible – socially distanced, isolated, and coping with a frightening pandemic; as we watch our nation struggle with the continuing racial injustice we have yet to solve, our animals remain by our side, providing comfort and unconditional love.
Volunteer Spotlight
Allie Landry, Manhattan
Allie started out as a cat volunteer five years ago when she retired and has since branched out to help in a multitude of ways. In the beginning, Allie started by leading mentorships for our new volunteers and eventually began leading the second level of training for current volunteers. She is also a wealth of information when guiding the many group volunteer sessions at the shelter. In addition to all that, she is a huge help to our Outreach Coordinator by taking beautiful photos as well as writing great descriptions about our adoptable kitties. Since starting, Allie has become a "Cat of all Trades" and while she's a master at her trades, she's always helping us to find ways to improve.
Focus on Feral Cat Initiative (FCI)
Five-week old Mittens and his three siblings were born on the street in Brooklyn. Their Mom Tabitha was abandoned months earlier and not having been spayed, she was soon pregnant. She found her way to a backyard where a kind woman fed her and she gave birth in an open container. Gravesend Cats, a local TNR, (Trap-Neuter-Return), organization was able to trap Tabitha, Mittens and the rest of the litter a few days after they were born. One of the kittens has the coloring of a seal point Siamese and the other two are tabbies with white feet like their brother Mittens. Mom is scheduled to be spayed in one week and the kittens will be available for adoption from Bideawee's Manhattan shelter soon.
Pick of the Litter: Empress
Picked by: Michelle Kelly, Westhampton Adoption Associate
Poor Empress is one of our longest-stay doggies and she's also one of my favorites. When it comes to showering her trusted people with love, there is no one who can compare. She loves to snuggle into your lap, and would get into your lap if her size permitted! She always has a stuffed toy in her mouth and loves joining the staff on their lunch breaks where she is excellent at making sure there are no crumbs left behind. Empress's biggest challenge is that it takes her a little time to trust new people so she doesn't show very well at the shelter when prospective adopters come in. She is just looking for someone who is willing to put in a little time to meet her multiple times and make her feel comfortable. Once she knows you, she is the epitome of a best friend.