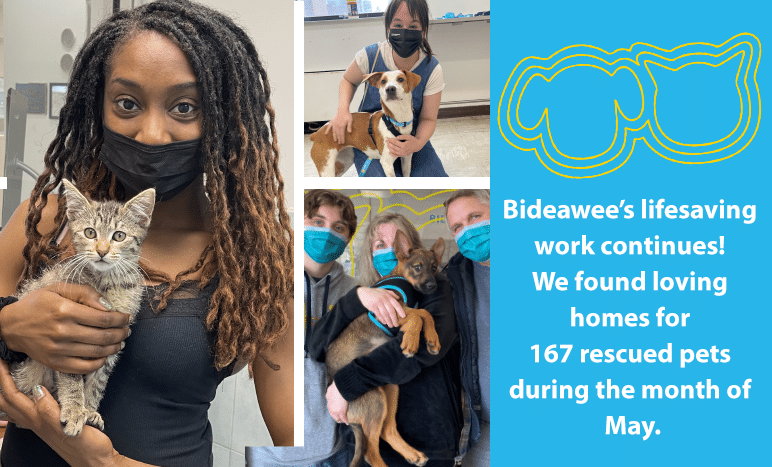 This Month's Features
Pet of the Week: Isla
Isla (formerly Devina) has become one of our greatest joys in such a short time! We had been looking for a pup just like her for quite a while, and were so excited when we were offered the opportunity to meet her just a couple days after applying. As soon as we walked into the room, it was love at first sight– she was our girl! The application process was very smooth, and we knew right away that we were working with a great rescue that was organized, professional, trustworthy, and asked all the right questions to us as applicants. We were also provided with all the necessary information for Isla that would ensure a smooth transition to the home (microchip info, full medical records, and even a generous sample of her puppy food)!
Help is Here!
Like many of you, and many others out there, I adopted a pup during the pandemic. (Read all about it in this previous blog post.)
And like most, I wanted to make sure that I was starting out on the right foot, and raising a dog who would not only be a well-behaved member of the family, but also one that had all of the tools and training to be safe, secure, and confident in any situation she might find herself in. But just because I am the CEO of a 118-year-old animal welfare organization doesn't mean that I have the skill-set to best train a puppy. Quite the opposite! It's the like the old saying that the shoemaker's children go barefoot. But unlike the shoemaker, I do know enough to turn to others for help and lucky for me, I'm in just the right position to do that.
Focus on FCI: FCI Trains Bideawee Volunteer of the Month to Raise Abandoned Kittens
After Brooklyn resident, Hayong Lau, attended Bideawee's Feral Cat Initiative's (FCI) Bottle-Feeding & Care of Orphaned Kittens webinar last year, she immediately wanted to put what she learned into practice to help the most vulnerable members of the community cat world — newborn kittens. She became an official Bideawee foster caretaker by attending our online volunteer orientation, and she has since gone on to foster many cats and kittens on their way to adoption.
Staff Spotlight: Anna Konik
"I joined Bideawee over 13 years ago and have served in various roles as a member of the Development Department. Currently, as Senior Manager of Events and Customer Relations, I oversee events such as our annual Bideawee Ball, mobile adoption events and other fundraising events. In addition, I manage our customer service team, who are responsible for processing a large portion of our donations and the acknowledgment letters our amazingly generous donors receive."
Pick of the Litter
Silvi Vega, Westhampton Adoption Associate
I couldn't wait to nominate my favorite bonded besties, Sam and Dumont, for this month's Pick of the Litter. I've been working with these guys for months and have seen them go from being completely shut down (they were rescued from a terrible hoarding situation in Puerto Rico and you couldn't get near them when they first arrived), to nuzzling me for pets and treats, and even giving kisses! They are still incredibly skittish and will require a patient adopter who can continue to help socialize them, but they have already come so far, and I'm so proud of them! It's easy to compare them to dogs that have not experienced what they have, but when you know what they've been through, you realize how extraordinary their progress has been, and I know I speak for the entire staff when I say that I can't wait for them to find the loving home they so deserve!