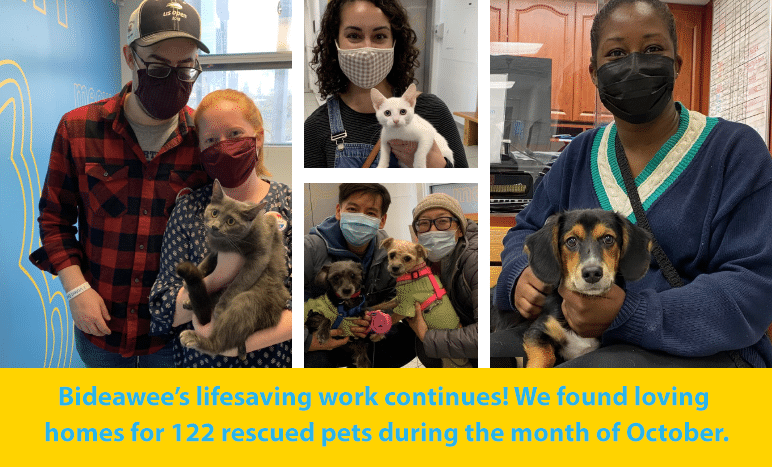 This Month's Features
Pet of the Week: Willard

We, like most prospective pet parents, were "just going to look" when we went to Bideawee. I saw a sweet gray kitten online during my lunch break, and on an impulse decided we would go after work to meet her. We stood outside for a while because we knew we would fall in love and wanted to prepare ourselves to just look. When we went into the kitten room the gray kitten didn't pay us much mind, she was adorable and sweet but seemed shy.
I am Grateful
As we head into Thanksgiving, I wanted to take a moment to reflect and give thanks for the many things I am privileged to observe in my unique role as the President and CEO of Bideawee. Despite the challenges of 2020, the fear and pain of a global pandemic, and the uncertainty of our country's future, I am blessed to bear witness to acts of heroism– acts of saving animals' lives–not in a big, "media-splashy" way, but in the everyday actions of the staff, volunteers, board, adopters and donors that make up the Bideawee family. For that, I am so very grateful.
Focus on FCI: Building Winter Shelters for Feral Cats

As the leaves begin to turn, and fall jackets make their way back into daily rotation, cat lovers wonder how they can help the community cats in their neighborhoods stay warm this winter. The tens of thousands of community cats who live outdoors year-round in NYC and Long Island will seek out refuge from cold weather this winter. Unfortunately, without a safe space to hunker down and warm their paws, outdoor cats sometimes climb into car engines and wheel wells to avoid the elements, potentially exposing them to severe injury. (Reminder to all drivers — bang on your car's hood before starting your vehicle this winter!)
Learn how you can keep your feline neighbors safe, warm, and dry this winter by joining our Building Shelters for Outdoor Cats Webinar this month.
Winter Wonderland Photos in Westhampton
Join us at our Westhampton location for a Winter Wonderland photo opportunity for your family and pets. All are invited to have a photo taken by our photographer in our beautifully decorated outdoor Gazebo.
For a $15 donation, you will receive a high resolution digital photo and an exclusive magnetic holiday photo frame.
To ensure everyone's safety we will be practicing social distancing and taking all necessary precautions.
Photo sessions are on November 21st and 22nd at 118 Old Country Road, Westhampton.
All attendees must register for a 15 minute appointment and submit your $15 donation in advance.
Pick of the Litter: Tony
Picked by: Hilary Berryman, Adoption Associate

I have the biggest soft spot for Tony. He was relinquished when his adopter passed away and we came to find out that he had hardly ever been taken outside. He was loved, but his adopter was older and kept him mostly indoors so he's very scared of the busy New York City streets. Tony is the epitome of a gentle giant and would spend all day on your lap if he could. He loves giving kisses and playing with other dogs and he's a giant sweetheart. Tony takes a little time to warm up to you, but once he does, he never leaves your side! I can't wait to finally see Tony live the life he deserves!