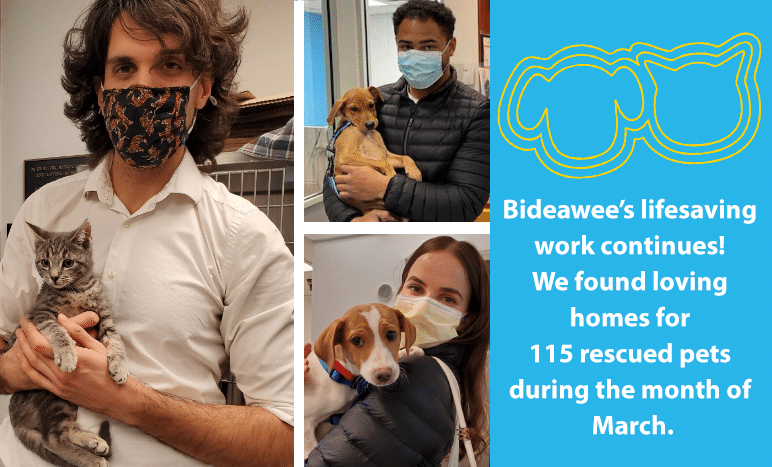 This Month's Features
Pet of the Week: Peanut
After my dog passed away, I signed up to be a foster but I was only interested in fostering a dog. However, over time, I wound up adopting another dog from Bideawee, and already had a Bideawee alum senior cat. Sadly, back in April of 2020, my senior cat passed away. I figured at some point I'd adopt an adult cat, but a kitten never crossed my mind. And amidst all the craziness of Covid, it just didn't seem like the right time for me to start that pet-search journey.
What exactly is "Kitten Season," and why does it happen?
Spring has sprung! Although we are all grateful as the days grow longer and the trees and flowers begin to bloom, spring brings unique challenges to animal welfare.
Every spring, warmer temperatures inspire the community cats in New York City and Long Island to breed, quite literally giving birth to kitten season. In the coming weeks, Bideawee, Animal Care Centers of New York City, and our rescue and shelter partners will soon be inundated with kittens. While some kittens will have a mother cat by their sides, many more will be orphaned bottle babies. Many of them will be barely days old, sickly, and fragile.
Bideawee's 'Love Your Pet' Art Contest

Bideawee's 13th annual Love Your Pet Art Contest is underway! As always, this annual contest invites students grades 1-12 to use their artistic talent to express their love for animals. This year, due to Covid, we are asking all students to digitally submit photos of their artwork that will be showcased on our website. Students and teachers can submit artwork through Sunday, May 9th in their grade group: 1-2, 3-4, 5-6, 7-8 and 9-12. The five winners will be determined by online public vote, and prizes include a $100 VISA gift card from the event's sponsor, Teachers Federal Credit Union.
Focus on FCI: Kitten Season is Here!
Warmer days are here, and although we are all happy to spend more time outdoors again, the new season brings unique challenges for community cats. While kittens can be born all year round, longer days and warmer weather mean that more feral and stray cats who have not yet been spayed or neutered are now breeding. Getting kittens off the streets and adopted into indoor homes is one of the goals of Trap-Neuter-Return (TNR), and Bideawee's Feral Cat Initiative (FCI) wants to teach you how to help!
Bideawee's Pet Memorial Park Guided Walking Tours
Bideawee's Pet Memorial Park Guided Walking Tours are back! The guided tours, which will explore the grave sites of many beloved pets who call Bideawee their final resting place, will take place every third Saturday of the month starting on Saturday, April 17th at our Pet Memorial Park in Wantagh. The tours, led by Ray Cushmore, Chief Operating Officer and VP of Finance and Administration at Bideawee, will feature military, fire and police dogs; Checkers, the Cocker Spaniel credited with saving Richard Nixon's political career in 1952; a giant 125-pound tortoise; a duck; a capuchin monkey; petit horses; and others. Space is limited and all participants must register in advance.
Book a Vacation for You and Your Pup at Camp Hollywoof!
Bideawee is excited to partner with Camp Hollywoof, an exclusive camp focused on creating unique experiences for dogs and their owners. At Camp Hollywoof, pet parents and their pups will be able to immerse themselves in the glam of being a Hollywood star as well as the adventure of going to camp. Follow @camphollywoof and @Bideawee on social media for an exclusive opportunity to win a weekend for two with your pup.