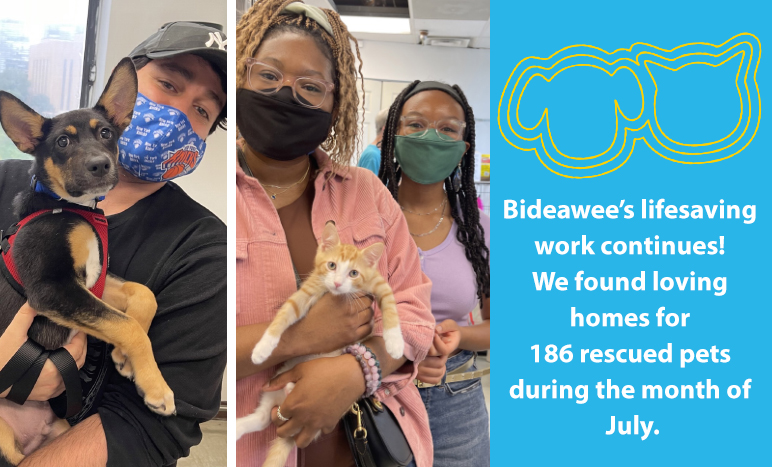 This Month's Features
Pet of the Week: Finch & Pip
When my partner and I moved in together, we knew right away that we'd be adding a pet to our life – we barely made it a month as homeowners before we were looking for a cat. My friend had volunteered at Bideawee and highly recommended them, so I spent days scouring the cats and dogs and sending profiles to my partner, Mike. Once we spent some time in the cat rooms at Bideawee, Finch took an immediate interest in Mike – he kept walking up to him, staring, walking off, and coming back to him. Mike was convinced Finch was demonstrating how reliable he'd be as a family member since he both ate, and used the litter box in front of him!
Big News About Our Adoption Centers
I decided to switch things up this month and make my August blog a video blog! I have some big news to share about our Adoption Centers and let's just say that I'm looking forward to seeing all of you in person again! Check out the blog and stop by our Manhattan and Westhampton Adoption Centers to meet your future furry family member.
Focus on FCI: Hot Summer, Cool Cats
As the August heat sweeps across New York, here are FCI's tips to help you keep the cats in your community stay safe through the last dog days of summer.
Tips for Pesky Pests:
Ants are easily controlled by creating a water "moat" that they can't cross. While a cost-effective option is to place your food dishes in a shallow pan of water, it can be messy and regularly cleaning and changing the water can add an additional chore to your day. Although a bit more costly, there are many ant-proof cat feeders on the market to help you combat ants all summer long without the hassle of additional clean up.
Staff Spotlight: Deanna Murphy
Client Care Supervisor, Westhampton
"I started working at Bideawee just over 14 years ago as a teenager. In nearly a decade and a half, being at Bideawee has led me through both a career journey and a personal transformation; from the edge of adolescence through actual adulthood. During this time, I've had the privilege and honor to experience working at all three locations, and within various departments. It's been a voyage learning about animals, life, genuine hard work, love, and the nature of the animal welfare field. I've had the pleasure of working as an Adoption Associate, which lead me into an early love of animal behavior. In 2009, I graduated Animal Behavior College, and eventually began to work more intimately with the dogs and cats in a training capacity, and I later moved into a Behavior-Enrichment Coordinator position. Time went on to lead me into the role of Event Liaison and Client Care Supervisor at the Westhampton location, where I have now spent the majority of my Bideawee career. We all wear many hats here, and whether working in an isolation area, with the cats or dogs, at the desk, or assisting with events, it's a blessing to never work the same day twice. It's always a surprise."
Pick of the Litter: Lisa
by Sara Reubel, Adoption Associate
Lisa is a happy girl with lots of puppy energy who just wants to be friends! She's working hard on learning her manners and will "sit" on command. She gets so excited to see her buddies and loves going on walks and spending time outdoors. Lisa is a total sweetheart and just wants to be the best girl she can be. I know she is going to make some family incredibly happy and I can't wait for her to find her forever home.