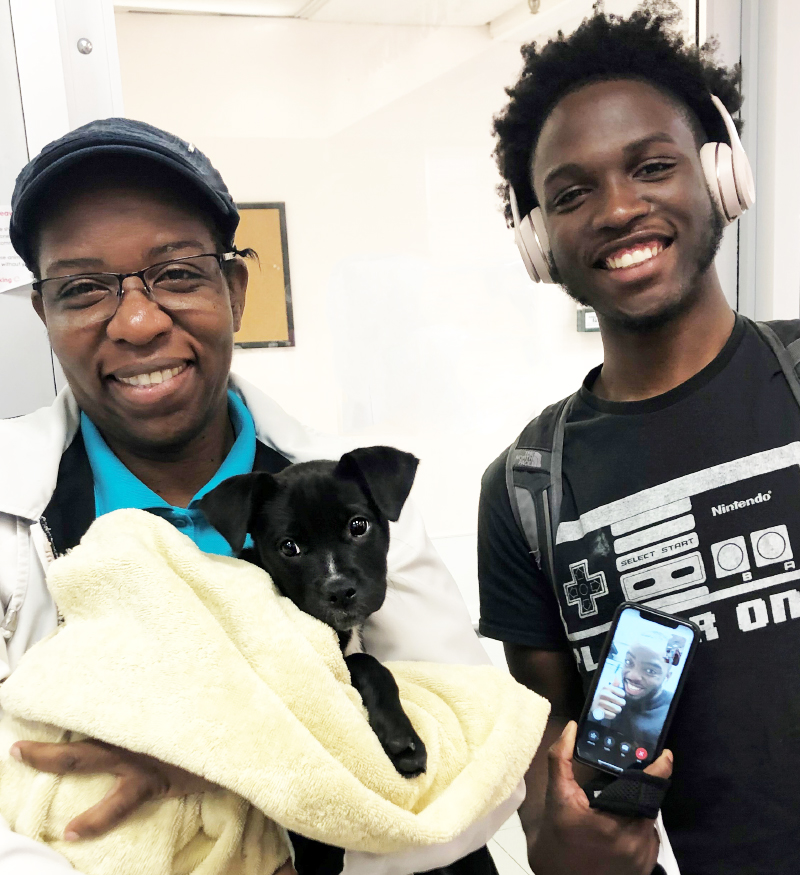 This Month's Features
Pet Spotlight: Marshall

I LOVE dogs! I always wanted one and I wanted it to be a true rescue, a dog who wasn't going to fly out the shelter and needed someone who was willing to put in the work to help them thrive.
Continue >>
Add Kitten Socialization to Your Foster Skill Set
Kittens who have never been kindly handled by humans fear us as predators, and they may cringe, hiss, run, and hide to protect themselves. But young kittens are easily charmed. For most, a few weeks of regular taming sessions involving delicious hand-fed meals, gentle touch, and fun, interactive play is all it takes to turn them into purring lap kitties, ready for adoption.
Many kittens enter Bideawee already cuddly, confident, and on the adoption fast-track, but some need a little extra TLC first to prepare them for their loving forever home. For this, Bideawee relies on our amazing foster volunteers to convince cautious kitties just how great people can be.
Are you interested in fostering and socializing kittens who are a little "spicy"? If so, we invite you to check out the recording of our July webinar, Taming Feral Kittens for Adoption, to add these life-saving techniques to your foster skill set!
Video
Passcode: !nU2zkv=
Handouts
And if you're not already a Bideawee foster volunteer, we invite you to learn more and apply.
Leading with Authenticity
I've always been a very social person. I like people, I love making people laugh, I love social activities, and I like being a part of people's lives. I have a large and diverse social circle and a few incredibly close friends that I've had for nearly all my life. I thrive in situations where I get to stand up in front of loads of people and talk about something I'm passionate about. Getting to speak at the gala each year about the work that my team is doing to help animals in need is my favorite time of the year! I don't get nervous – I get energized!
Staff Spotlight: Andrea Gallo

Planned Giving and Development Coordinator
Hi! I'm Andrea Gallo, Bideawee's Planned Giving and Development Coordinator. In April 2022, I joined Bideawee, initially working as an Animal Care Specialist. I loved working hands-on with the animals, but was eager to grow and learn more about the business side of things, so when the opportunity emerged to transition into my current role as Planned Giving & Development Coordinator, I jumped at it. Planned Giving is when people include Bideawee in their will or estate plans so that they can continue to support Bideawee's mission.
Pick of the Litter: Ella

by Karen Rodriguez, Adoption Associate, Manhattan

My staff pick of the litter is Ella! This little character is one of the most entertaining kitties I've ever met. Ella was rescued from a cannabis shop, where she suspect she may have fallen in with the wrong crowd and developed some naughty behaviors! We think her former buddies may have rough-housed with her quite a bit so Ella definitely has a naughty streak! Ella isn't a lap kitty; she Loves to play and she can entertain herself to no end! Give her something to chase or pounce on and she's all in. That said, she's learned that people are not toys so you don't have to worry about her planning a sneak attack on your ankles when you walk in the room. She has been warming up to us and we expect her to continue to warm up to people the more exposure she has with them. She just may never be a lap kitty, BUT that's not going to stop her from being an adorable and highly entertaining companion who is sure to keep all the mice and creepy crawlers away.