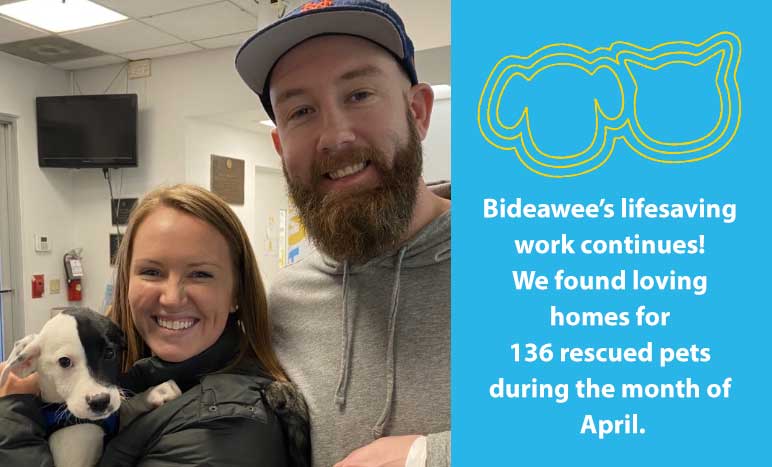 This Month's Features
Pet Spotlight: Sunny
Once my Green Card was approved, I thought it was time to open my home up to a cat that needed love and safety, which I'd been dying to do for years. After some searching online, I found Sunny. His story about being left in a bucket outside the shelter, accompanied by the actual photo of him in the bucket broke my heart, so I emailed, called, and reached out on Instagram. I immediately heard back on Instagram and soon afterward, I had an appointment to meet him at their Manhattan location.
Solving & Prevention: The Westhampton 26
Many of you may have already heard about the 26 cats and kittens that were recently abandoned behind the Bideawee Animal Hospital at our Westhampton Campus. Thanks to a number of converging factors, including the good fortune that a passer-by spotted their carriers (the hospital was actually closed that day), the unbelievable speed with which our medical team, adoption staff, and foster community sprang into action, and the outpouring of generosity and support from people like you, these cats are now safe and getting the medical care, love, and nurturing they desperately need.
Focus on Community Initiatives: Do You Speak Cat? (Or Kitten?)
Do you encounter shy or defensive kittens or cats in your foster work, your TNR work, or other animal rescue work? Do you want to learn how to turn hiding and hissing to cuddles and purrs? If so, this presentation is for you!
Using videos of successful techniques, combined with insights into the biological development of kittens, we will teach you how to tame and socialize under-socialized and feral kittens quickly and efficiently so they can more easily be adopted into indoor homes. These techniques also work on shy or low-confidence tame cats as well as some older ferals.
Taming Feral Kittens for Adoption
Wednesday, June 15, 2022
5:00–6:30 p.m. ET
Staff Spotlight: Steve Lufrano
Senior Director of Employee & Volunteer Engagement
I began my journey with Bideawee as an intern back in 2012. I had recently graduated with a BS in Business Management and knew I wanted to work in Human Resources. Luckily, a friend who was volunteering at Bideawee let me know their Human Resources department was looking for an intern. I thought this could be a wonderful way to get involved with an organization whose mission is to help animals, something I feel passionate about. I was fortunate to get hired not long after, and today I hold the position of Senior Director of Employee & Volunteer Engagement.
Pick of the Litter: Jasmine
by Sara Devlin-Reubel, Adoption Associate
Jasmine is an intelligent, gentle girl and a wonderful companion. We share an enthusiasm for being outside in the sunshine and taking long walks on the trail. Jasmine is great company when you just want to hang out and relax. She stays close but also gives you your space. Jasmine is a great listener and you can share your deepest secrets with her without any fear of judgment. I know people love puppies, but there is something so comforting and soothing about the company of a wise, calm senior dog. Her enjoyment of the simple pleasures, like a walk in the sun or an afternoon relaxing on the grass always make me smile. I love the time I spend with Jasmine and I hate seeing her overlooked. I hope someone special will visit our Westhampton location and make this sweet girl a part of their family.