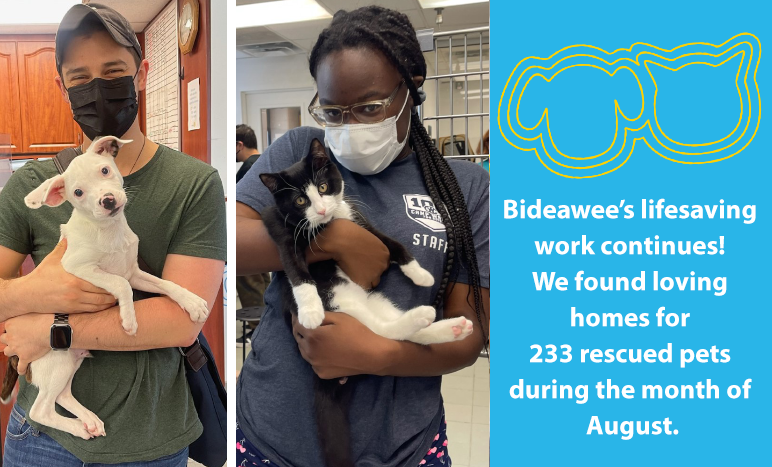 This Month's Features
Pet of the Week: Poppy
Poppy came to us exactly when we needed her. It felt like one of those "meant to be" moments. We didn't even realize how much of a void we had in our lives without her, so really, she rescued us, not the other way around. In the summer of 2020, we lost our family dog and best friend of nearly seventeen years. We thought we would give it some time before bringing another dog into our lives, but the very next day and every day after that, we noticed how empty our home and our lives felt. Our first dog, Lily, defined what home meant to all of us. She brought so much joy to our lives so losing her was indescribable, but we knew the best way to honor her memory was to adopt another dog like her.
Protect the Ones You Love
September is National Preparedness Month, a campaign aimed at raising awareness about the importance of preparing for disasters and emergencies that could happen at any time. The 2021 theme is "Prepare to Protect." Preparing for disasters helps to protect everyone you love, and we know that includes your beloved four-legged family members.
Focus on FCI: Introducing Bideawee's Feral Cat Initiative Help Desk
Whether you've had questions about cats and kittens you've seen outdoors, or you've needed help with Trap-Neuter-Return (TNR) or kitten care, Bideawee's Feral Cat Initiative (FCI) has always been here to help. This year, however, we've taken our support capacity to an even higher level with the launch of Bideawee's Feral Cat Initiative Help Desk!
So far, this year, FCI has answered more than 1,400 support inquiries, helping hundreds of people and thousands of feral or stray community cats and kittens.
All you have to do to start a conversation with an expert FCI team member is to visit our Help Desk on your computer or device. Choose your inquiry topic, enter your contact information, submit your question, and a team member will respond to you via email.
The next time you have concerns about cats living in your area, want services or tips to help make your TNR project successful, need advice on caring for orphaned kittens or taming feral kittens, have a follow-up question after attending one of our webinars, or just want to get involved, be sure to take advantage of Bideawee's Feral Cat Initiative Help Desk!
Staff Spotlight: Abby Michaels,

Manhattan Adoption Associate
"I started working at Bideawee right before the pandemic, and there hasn't been one day when I haven't felt grateful and lucky to be able to do what I do. I've always loved working with animals, but being able to help my favorite babies find their forever homes has proved to me that this is what I'm meant to do with my life. One of the biggest reasons I love being part of Bideawee is because the animals always come first."
Pick of the Litter: Turks

by Amy Steares, Animal Care Supervisor in Westhampton

My Pick of the Litter for September is none other than Tender Turks! We call her that because she's such a sweet and gentle girl. She came to us with her kitten (who looked exactly like her!) and she was such a sweet and attentive mama. Her kitten has since found a home, and Turks, who is only 11-months-old (a baby herself!) deserves a wonderful, loving home of her own, where she will be spoiled rotten. Turks loves to play, nap, and keep you company while you work, and will make such a great companion. Meet her at our Westhampton location today!