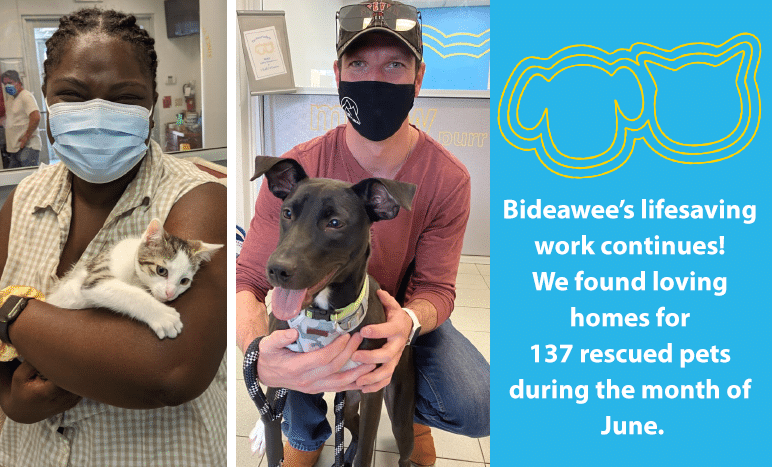 This Month's Features
Pet of the Week: Freida
Freida is the most loving dog I have ever met and is the star of our neighborhood. She has never met a person that she didn't immediately adore and you can fully expect her to roll onto her back for pets within five minutes of meeting you. Everyone in our neighborhood knows and loves Freida; when we go on our walks people driving by will slow down just to say hi to her!
Getting Together Again!
June 2019. That was the last time we all gathered together in person to raise more than $700,000 for Bideawee's lifesaving mission. This funding is critical to helping us continue to rescue, rehabilitate and rehome at-risk animals, but when the pandemic struck, all events came to a halt, including our largest and most impactful fundraising event of the year.
Focus on FCI: A Kitty Couple is Twice as Nice!
With "kitten season" in high gear and animal shelters and rescue groups full of wonderful kitties looking for homes, summer can be the purrfect time to add a feline friend to your family. But did you know that choosing two kittens or cats can make adoption even better?
Staff Spotlight: Leanna Maltese
Animal Care Specialist, PAWS
"I started as a volunteer at Bideawee back in 2013, and in 2016 joined the team in Wantagh as an Animal Care Specialist. I am responsible for the daily care and enrichment of the animals. I've since taken on various new roles along the way such as assisting in surgery and performing behavior evaluations on dogs. Most recently I have become a mentor for the Dog's Trust professional development program, which focuses on learning dog behavior and training methods. I have learned so much along the way and continue to each day."
Pick of the Litter: Bleu
by Dana Edelson, Outreach Coordinator
Bleu is only one-year-old, a kitten herself, but she's having a hard time getting any attention during kitten season, with so many teeny tiny kittens around. Personally, I'd take a calm, well-behaved adult cat over a crazy kitten any day of the week, and Bleu is as sweet as they come! Her foster mom said that's she's "an angel" and loves to play and keep her company during the day. And that photo of her wrapping her hands around her foster mom's hand… I mean, does it get any cuter?