Explore the many free workshops & webinars offered to support your work with community cats.
TNR Certification Workshops Suspended Due to COVID-19
Due to COVID-19 restrictions and out of an abundance of caution for the safety and well-being of our community, we have canceled all of our in-person community cat workshops until further notice. We look forward to providing in-person, hands-on instruction again soon!
Our Specialty Training Workshops are now being offered as online webinars: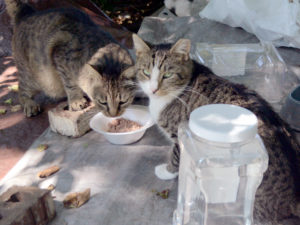 Do you want to help stray and feral cats in your community but don't know where to begin? This webinar will give you an insider's tour of the world of Trap-Neuter-Return (TNR) and community cats.

Learn the skills needed to successfully bottle-feed and care for orphaned kittens. Find out how to navigate all the stages of kitten care, and what equipment, formula, and bottle-feeding techniques get the best results.

Using videos of successful techniques, combined with insights into the biological development of kittens, we will teach you how to tame and socialize feral kittens quickly and efficiently so they can be adopted into indoor homes. These techniques work on low-confidence tame cats as well as some older ferals.

Learn the materials, tools, and skills needed to build warm, waterproof shelters to protect feral and stray community cats from cold and wet weather conditions. We will show you how to build two styles of outdoor winter shelters and provide information about shelters that are available for purchase.

We will provide you with tips for good communication with your neighbors and community about Trap-Neuter-Return (TNR), plus ideas and handout materials to educate them about the needs of feral and stray community cats and the benefits of TNR.
Stay tuned for additional Specialty Workshops coming soon!