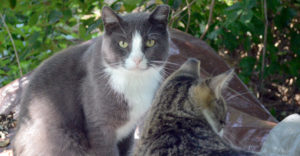 Community cats occupy a unique niche in our society because they belong to a domesticated species and are often fed by humans, yet they have no owners and many are feral and therefore not good candidates for adoption. Local laws regarding community cats and Trap-Neuter-Return (TNR) vary from place to place. For example, New York City's Local Law 59 endorses TNR and includes vaccination against rabies and identification (eartipping) in its definition of TNR.
This section gives information on aspects of the law that community cat caretakers should know about — particularly in New York City — tips on how to work with law enforcement and community leaders, and links to important community resources to help ensure the safety and well-being of community cat colonies.
Community cats are considered companion animals, not wildlife, under New York State law. They are protected by the same anti-cruelty statutes that protect our pets from unjustified harm, pain, or suffering at the hands of a human. Below you will find the information and resources you need to manage and protect your community cats.
How to Report an Animal Cruelty Crime
In New York City, animal cruelty cases are handled by the New York Police Department (NYPD). If you have observed the ongoing neglect or abuse of an animal, call 311. However, if you are witnessing an animal cruelty emergency in progress, call 911, or go to your local NYPD precinct.
To give NYPD information about an animal cruelty crime and remain anonymous, contact NYPD's Crime Stoppers program by calling 1-800-577-TIPS. You can also submit a tip to Crime Stoppers online, by SMS/text, or via a mobile app. Your identity will be protected no matter which method you use to give a tip to Crime Stoppers, and you may earn a reward for helping to convict an animal abuser.
The New York Police Department (NYPD) holds monthly community precinct meetings throughout the five boroughs of New York City. These meetings are open to the public and are a great place to find out what's happening in the neighborhood. They also give cat caretakers a forum to become known in their precinct as a trusted source of facts about community cats and responsible colony care.
If you aren't sure which precinct you live in, check out the NYPD's Precinct Finder.
Monthly community board meetings provide community cat caretakers with a forum to find out about what's happening in their neighborhoods, and, importantly, to become known and respected by their local authorities. Caretakers will be particularly interested in the Public Safety Committee (the focus is on law enforcement, including animal cruelty) and the Health and Human Services Committee (the NYC Department of Health, which manages issues affecting community cats, can be influenced through this committee).